UHMWPE fabric, use and performance in the best motorcycle clothing
Safety and protection is essential for two-wheeled enthusiasts. In this context, we are going to talk about UHMWPE (Ultra High Molecular Weight Polyethylene) fabric and why it has become a real revolution for the best motorcycle clothing. 
What is UHMWPE fabric?
UHMWPE is a material that belongs to the polyethylene family, but differs from other types of polyethylene because of its extremely high molecular weight. This characteristic makes it an exceptionally tough fiber with a high energy absorption capacity and significantly higher tensile strength than other common textile materials.

Due to its high wear and impact resistance, high molecular weight polyethylene (UHMWPE) is found in many industrial applications. Such as in astronauts' suits and electronic devices on the International Space Station.

In climbing, for example, ropes and webbing made from combinations of UHMWPE and nylon thread have gained popularity for their strength.
Outstanding UHMWPE fabric properties
Extremely abrasion resistant: UHMWPE fabric is highly abrasion resistant, which means it can withstand intense friction conditions without degrading. A key feature for the best motorcycle clothing.

Excellent impact resistance: UHMWPE's ability to absorb energy is exceptional. This makes it an ideal choice for motorcycle gear as it can withstand strong impacts and shocks, reducing the risk of serious injury.

Lightweight: Despite its strength, UHMWPE fabric is surprisingly lightweight compared to other protective materials, such as leather or some types of synthetic fabrics. This allows bikers to enjoy more comfortable and less bulky clothing without sacrificing safety.

Tensile strength: The high tensile strength of UHMWPE makes it ideal for resisting tensile forces, which translates into increased durability of garments made from this material.

Flexibility: Despite its strength, UHMWPE is surprisingly flexible. This is essential for motorcycle gear, as it allows the freedom of movement necessary for safe and comfortable riding.

Durability: Resistant to over a thousand washings for longevity and no loss of elasticity.

Environmentally friendly: No heavy metals are used in the pigments.

Less energy: UHMWPE fiber requires half as much energy to produce as aramids.


Performance data
What many of you are waiting for, data:
| | | | | | |
| --- | --- | --- | --- | --- | --- |
| | Classic denim | Basic motorcycle clothing | Leisure riding | Active riding | Racing |
| UHMWPE | | | A | AA | AAA |
| Sliding in meters | | | 10m | 14-32 m | 56 m |
| Darmstadt Test | | | | | |
| Fall speed in km/h | | | 45 km/h | 70 km/h | 120 km/h |
| Cambridge Test | | | | | |
| Sliding in seconds | 0,3 | 1 | 2 | 4 | 7 |
| Sliding distance in meters | 0,5- 2 m | 8 m  | 16 m | 32 m | 56 m |
| CE 17092 | | A | AA | AAA | |
Compared to Kevlar: UHMWPE is 25% more abrasion resistant, 40% lighter, 2.5 times stronger, and its properties are maintained 10 times longer over time under UV exposure.
Motorcycle gear applications
UHMWPE fabric has been incorporated into various motorcycle clothing products to improve protection and safety for bikers. Some of its most common applications are:

Jackets, suits and pants: UHMWPE is used in the manufacture of motorcycle jackets and pants to provide an additional layer of protection against abrasions in case of falls or slips.

This is the case for the Neowise jacket and NearX suit.

Gloves: Gloves made of UHMWPE fabric offer high abrasion resistance in the most exposed areas during a fall, such as the palms and fingers.




Current problem, price
Currently UHMWPE-derived fabrics have one major drawback, and that is that they cost up to 3 times more than leather. This means that motorcycle clothing with this fabric as the main layer cannot be economical. But we are confident that over time its production will become more and more economical.

Conclusion
UHMWPE fabric has arrived to revolutionize the motorcycle clothing industry by offering a superior combination of strength, lightness and flexibility.

At Andromeda Moto we will continue to focus on fabrics derived from these UHMWPE fibers and other state-of-the-art fabrics, which offer better performance and protection than leather.

The goal is to produce the best, safest, most comfortable and sustainable motorcycle clothing possible.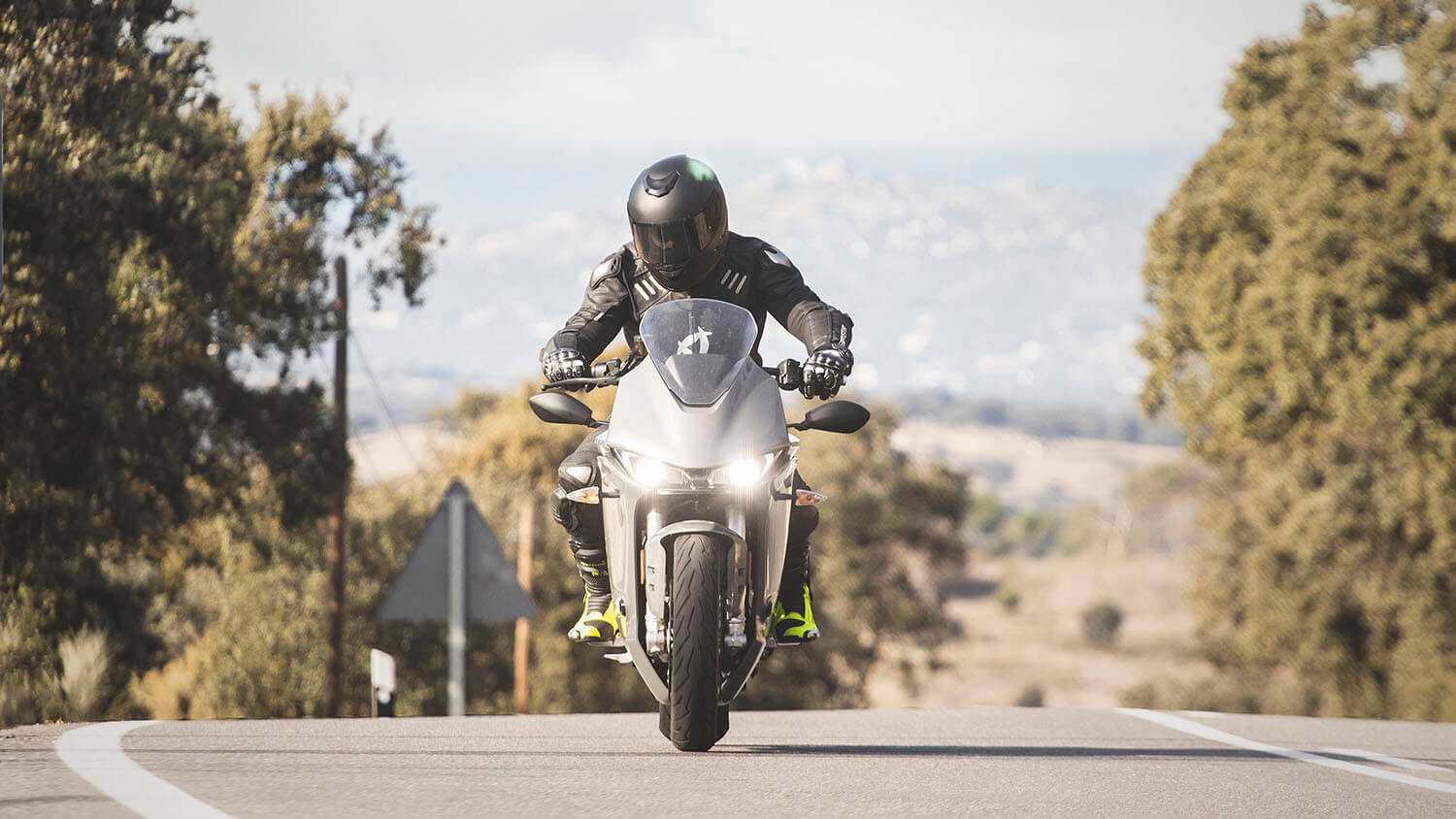 For riders who face big challenges
Motorcycle gear with aerospace technology