Article: Motorbike accident stories. Andromeda Moto riders tell their experiences
Motorbike accident stories. Andromeda Moto riders tell their experiences
Nowadays, there are a number of requirements on how you must be equipped to enter circuits. For example, you can't ride without a full suit, long-legged boots and road gloves.
As for the materials, practically the only thing they ask for is that your clothes be made of leather (as if that were a sufficient guarantee to be well protected).

We, however, have opted for the alternative: using synthetic fabrics, which are more advanced and have superior qualities in terms of both safety and comfort.

Below we will present cases of motorbike accidents that some of our customers have experienced while wearing Andromeda gear.
Antonio Lázaro
Jarama Circuit, Spain
Antonio told us privately that he had an accident
"at about 90 or 100 km/h, Curve 15 at Jarama".
Luckily he was wearing the NearX suit with AAA protection.

"Good motorcycle suit. What a drag. I didn't even feel the heat."
Andy Herring
Snetterton Circuit, England
Andy (@maximum_lean) wrote of his experience on a bikers Facebook group:

"Certainly saved my ass at Snetterton this week! Me and my bike said hello to the tyre wall. Few busted ribs and impact damage but not a mark on the suit.

It was brake failure. Hit tyre wall at around 40-50mph. Side-on impact. 


Upper fairing smashed and bars are trash... along with footrests.
That bruise is my entire hip area...
Not broken... just cracked. Very lucky boy 😁"
Gant Motley
California, USA
Gant Motley, an Andromeda customer, has sent us the video of his accident at 60mph wearing the Neowise jacket. He is fine 😊
Alejandro Sánchez
Ricardo Tormo and Requena Circuits, Spain

Alex (@huevalex) told us that he has had 3 or 4 crashes at Requena and Cheste Karting circuits at speeds between 60 and 70 km/h.

"I use the Meteor gloves often, both for weekend rides and for laps, playing with pitbikes, etc. I've also had some drags with bigger training bikes (Ninja 250).

I still ride them without any problems, no rips, no holes. Obviously with crash marks but 100% functional. I don't know how fast I would go but I reckon around 60-70km/h".
Edgar
We received a message from a customer who commented that he had a serious accident, including many broken bones, but that the Neowise jacket and gloves saved him from damage to those parts of his body.


Hey guys, your jacket and gloves helped save my life. I was t-boned when someone blew a red light on Friday. I broke many bones, but the parts of my body that were covered by the gear I bought from you were unscathed. Thank you for helping save my life. I don't think l'Il ever ride again because of this, but I loved your company.
Bruce (UK Vegan Bikers)
Wellingborough, UK
Bruce, founder of the UK Vegan Bikers, tells us about his experience:
The accident was on a roundabout, I was going straight over in lane 2 when a car in lane 1 cut sharply across my path to the right with no warning, I had milliseconds to react, I braked very hard but it wasn't enough to avoid the collision. The car drove off and did not even stop to check I was ok!
I landed quite badly on my left side and have got several cracked ribs and a broken foot. The shoulder and elbow protectors definitely did their job, and as you can see the Meteors performed flawlessly too and I'm convinced they saved my hand from injury as I hit the deck hard.
---
Our recommendation is that when looking for motorbike clothing, you should look at the materials and not just the brand. It is not the same a suit certified with level A (or not even certified) as one that is AAA. Nor are gloves with protection in different parts and Kevlar lining the same level as a glove with hardly any of this.

It is the same with motorbike jackets. Most users are not aware of the existence of certification levels, but there are others who take this into account.

For example, a few months ago some customers deliberately came from the Canary Islands to our shop in Vitoria to try on the Neowise jacket. They said they couldn't find AAA jackets.

If it is motorbike clothing that is not yet certified, look at the characteristics and materials. It is an indication of whether it is premium or not.

If you have had a motorbike accident while wearing Andromeda Moto gear, tell us your story ;)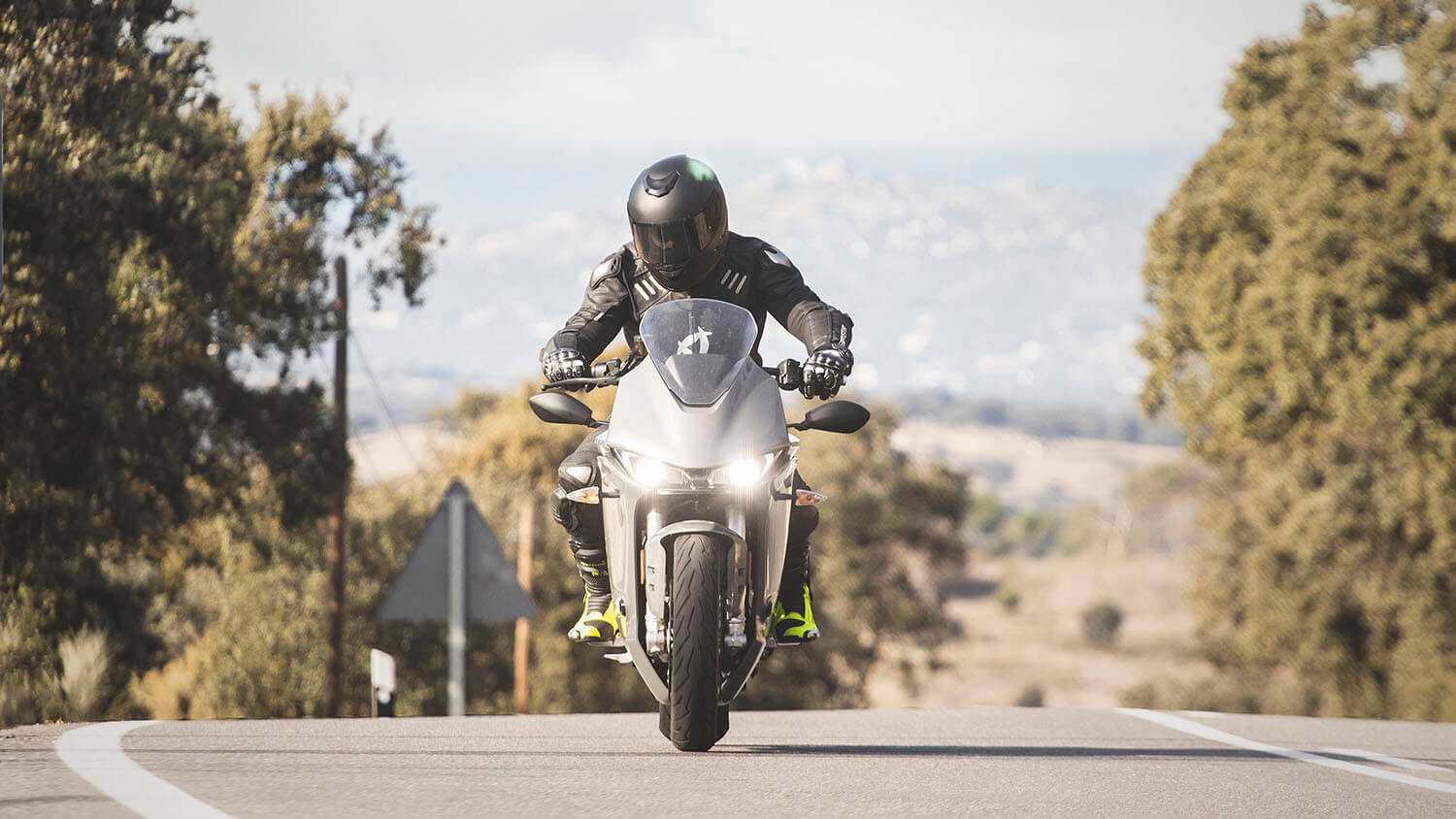 For riders who face big challenges
Motorcycle gear with aerospace technology