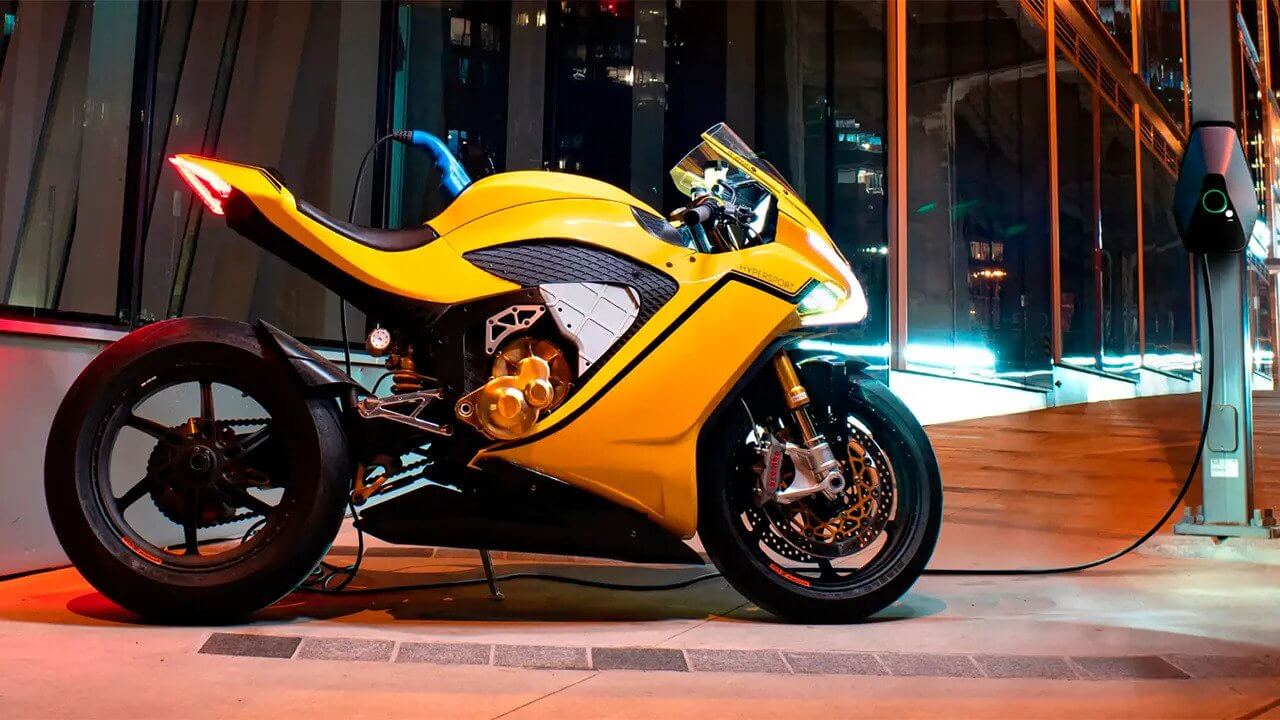 The 5 best electric motorcycles 2023
The automotive sector is increasingly aware that the future does not lie in fossil fuels, either because of climate change or the scarcity of oil.

Manufacturers such as Tesla, Mercedes and Kia are strongly committed to a change of mentality and the electric motorcycle brands have already taken note of this. A path, that of sustainability, which has also been transferred to sports motorcycle clothing, Andromeda Moto being the only 100% leather-free brand.
Here are some models of the best electric motorcycles of 2023:

1. Energica Ego
For four seasons, Energica has been the sole manufacturer of the MotoE world championship bikes (the electric MotoGp). The Ego is the street model, with almost the same characteristics but with a speed limit of 240 km/h.

The Energica Ego comes in three versions: Ego, Ego+ and Ego+ RS. The basic version has an average range of 200 km in the city. The other two versions have a range of around 420 km in the city.

It accelerates from 0 to 100 km/h in 2.8 seconds, with an engine of 149 hp/110 kW continuous power, and 171 hp/126 kW maximum. It also weighs 282 kg in its Ego version, and 260 kg in the more advanced versions.

In terms of electronics, there are 4 driving modes (Eco, Standard, Wet, Sport), 4 braking modes, Park Assistant mode and ABS with rear wheel anti-lift system.

The price of the Energica Ego is 31,085 €.

2. Harley-Davidson LiveWire S2 del Mar
The S2 Del Mar is the next evolution in the LiveWire brand, which, in the words of Harley-Davidson's president, aims to be "the world's most compelling electric motorbike brand".

Its naked aesthetic is inspired by Dirt Bikes, making use of the newly released Arrow: a platform that combines battery, electronics and motor in a single modular design.

All with the aim of speeding up the manufacturing process (up to 44% faster than the previous model) and adapting it to different models.

The power of this model is around 80 hp, with acceleration from 0 to 100 km/h in 3.5 seconds, and a range of up to 160 km.

It is priced at 16,950€.

5% off on the most high-tech motorcycle gear
An aside: Don't forget that if you are going to ride the most advanced on two wheels you also need the best gear. In Andromeda we offer you motorcycle clothing with aerospace technology. 

We continue with the list of bikes...

3 . Zero SR/S
The big rival to the Energica Ego. US brand Zero Motorcycles has been at the cutting edge of technology for 15 years, so it's no surprise that they're at the forefront of electronics with this Zero SR/S.

This model is equipped with the latest version of Zero's Cypher III+ operating system and Bosch's Motorcycle Stability Control (MSC). According to the company, the SR/S is the world's first fully "smart" motorbike, allowing the rider and motorbike to communicate critical information at all times.

The SR/S offers a top speed of 200 km/h, 190 Nm of torque and 110 hp for a total weight of 235 kg.

It is priced from €26,860.

4. Cake Kalk 
This ultra-minimalist Swedish off-road bike is powered by an 11 kW (14.8 hp) motor with 280 Nm of torque. It also integrates a 2.6 kWh battery capacity that keeps it running for 3 hours.

Its top speed is 90 km/h, which is not much, but weighing only 79 kg it is fun to ride, even in town.

The new CAKE electric scooter models are priced at €11,580 and €13,870 for the Kalk INK and Kalk OR, respectively.
5. Damon Hypersport
The long-awaited model from this Canadian company has finally arrived, an electric superbike that can reach 320 km/h, accelerating from 0 to 100 km/h in 3 seconds.

It also stands out for its Co-Pilot assistance system developed by BlackBerry, as well as Brembo brakes, Ohlins suspension, traction control and ABS.

As for the battery, it has a range of 320 km, allowing it to be charged to 80% in just 45 minutes. It also incorporates V2H (Vehicle-to-Home) technology, which uses the energy stored in the battery to supply light to a house during a blackout or to a caravan.

The price is around €19,000.


This is our selection of the most interesting electric motorcycles of this 2023. Which one is your favorite? Have we left any?
Comment on Instagram or Facebook if you think we missed any. Don't forget to also check out our more sustainable motorbike clothing.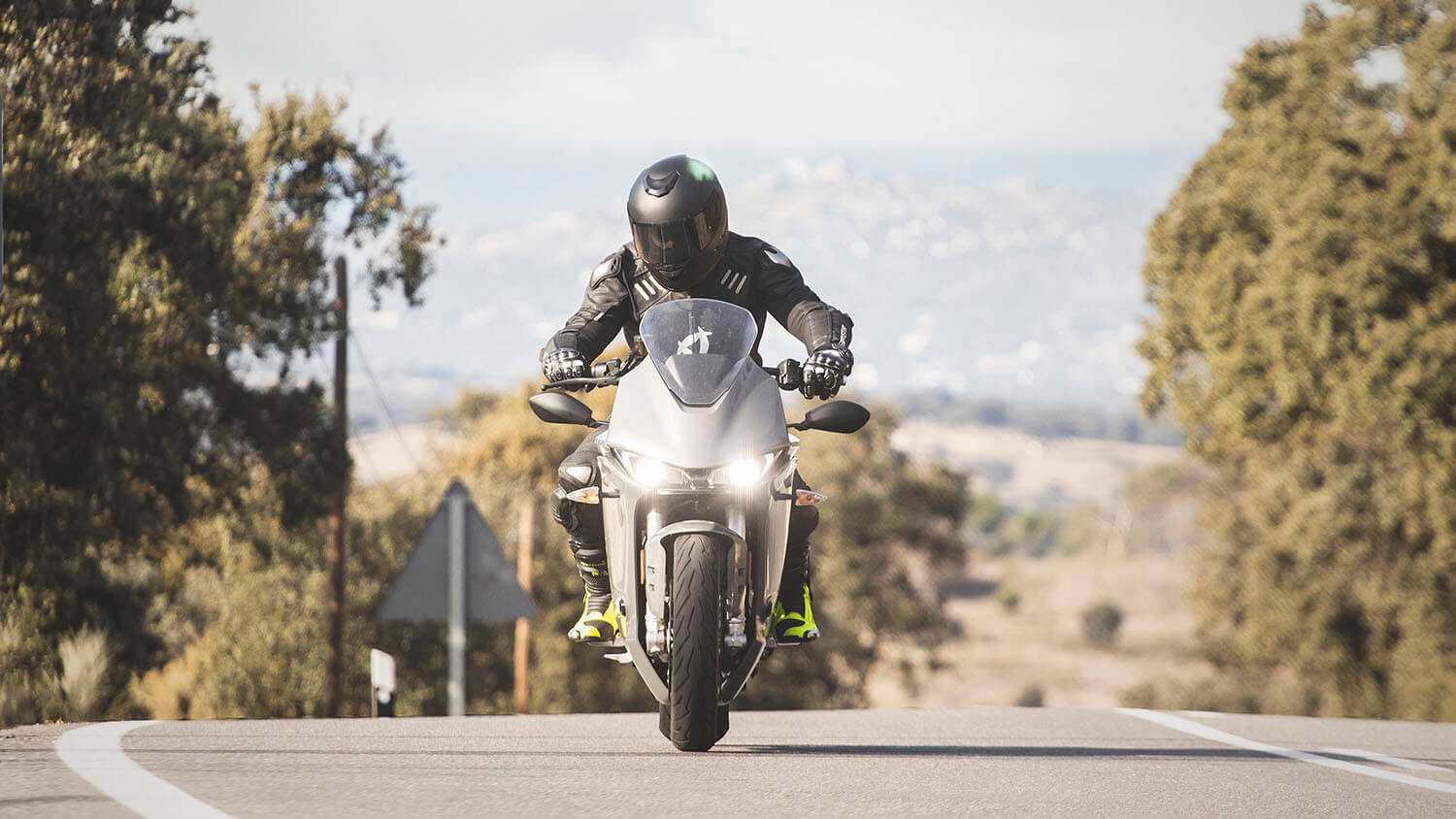 For riders who face big challenges
Motorcycle gear with aerospace technology