Nearx Suit (by size)
Sale price
€2,094.75
Regular price
€2,094.75
(/)
Only 3 units left
Only 6 units left
Only 3 units left
Only 1 unit left
Only 2 units left
Only 2 units left
Only 2 units left
Out of stock
Free shipping
Dare to feel the first motorcycle race suit of the next generation. NearX is the suit with the most advanced technology, specially designed to offer the highest performance to the rider. It is AAA certified (the highest level of protection) and it is 100% non-leather, making it 566 times more sustainable.
Shipping time 48-96h (Worldwide) / 24h (Spain)
Easy returns. You have 14 days to return a product if you are not satisfied, and 60 days to exchange a size. See conditions here.
Nearx Suit (by size)
Sale price
€2,094.75
Regular price
€2,094.75
Choose options
— EN 17092-2:2020 certification AAA suit for maximum safety. See certificate declaration.
— Two options: 2 piece motorcycle racing suit and one piece motorcycle suit.
— Water repellent surface.
— Greater comfort than leather suits. With equal protection it is lighter.
— Front and back vents (this is the only suit that has them).
— Simple maintenance, hand washable.
— 100% vegan motorcycle suit, and more sustainable (its manufacture requires less water and chemicals).
— Main fabric: Ultra resistant polyethylene UHMWPE, used in the suits of astronauts on the International Space Station.
— Schoeller® Keprotec on inner arms, inner legs, collar and cuffs.
—SuperFabric® reinforced in all high impact areas. 5x more abrasion resistant and 14x more tear resistant than leather.
—Protective aerodynamic hump.
— Protectors on shoulders and titanium elbows and knees for greater safety (sliders not included).
— YKK semi-locked steel zippers.
— Full inner kevlar layer.
— Level 2 SAS-TEC Back/spine Protector.
— Level 1 SAS-TEC Chest Protector.
— Level 2 SAS-TEC Hip Protector.
— Level 2 SAS-TEC Shoulder Protector.
— Level 2 SAS-TEC Elbows and Forearms Protector.
— Level 2 SAS-TEC Knee Protector.
— Level 2 SAS-TEC Coccyx Protector.
Philotemo Kazolias (Father of aspiring Motoamerica rider)
Instagram
"We get a lot of comments and questions from racers at the track. Everyone loves my sons suit and after his high side their questions of how will it hold up were gone.He tells them all how much easier it to move and how he's not dying inside his suit from the heat anymore. He destroyed second place last week by over a minute in a 25 minute sprint and got off tired but not exhausted. And best of all you're not killing baby kangaroos to make it!"
Jed Sampsel
Google Reviews
"It is very difficult finding non-leather protective motorcycle gear. More specifically pants or full suits that are track worthy.  Luckily today we have a few options and I recently received my NearX pants. I was blown away by the quality and it fit exactly how I had sent them the measurements. Go to their site to see all the technology put into it , but it is very robust and looks good too. Very comfortable as well."
Beatriz Milán
Google Reviews
"I am super happy with the jumpsuit, finally a vegan jumpsuit!!!!! I love it, it took a while to be made due to problems with customs, but it was worth the wait. The quality is unbeatable and the deal with them has been superb. A thousand thanks for a job well done."
Tom Millard
Google Reviews
"The suit offers loads of protection (feel very safe wearing it) and is genuinely extremely comfortable. It is almost like wearing a onesie. Up-close it doesn't look like leather but the materials have been chosen to be as safe as possible as opposed to being an imitation leather suit."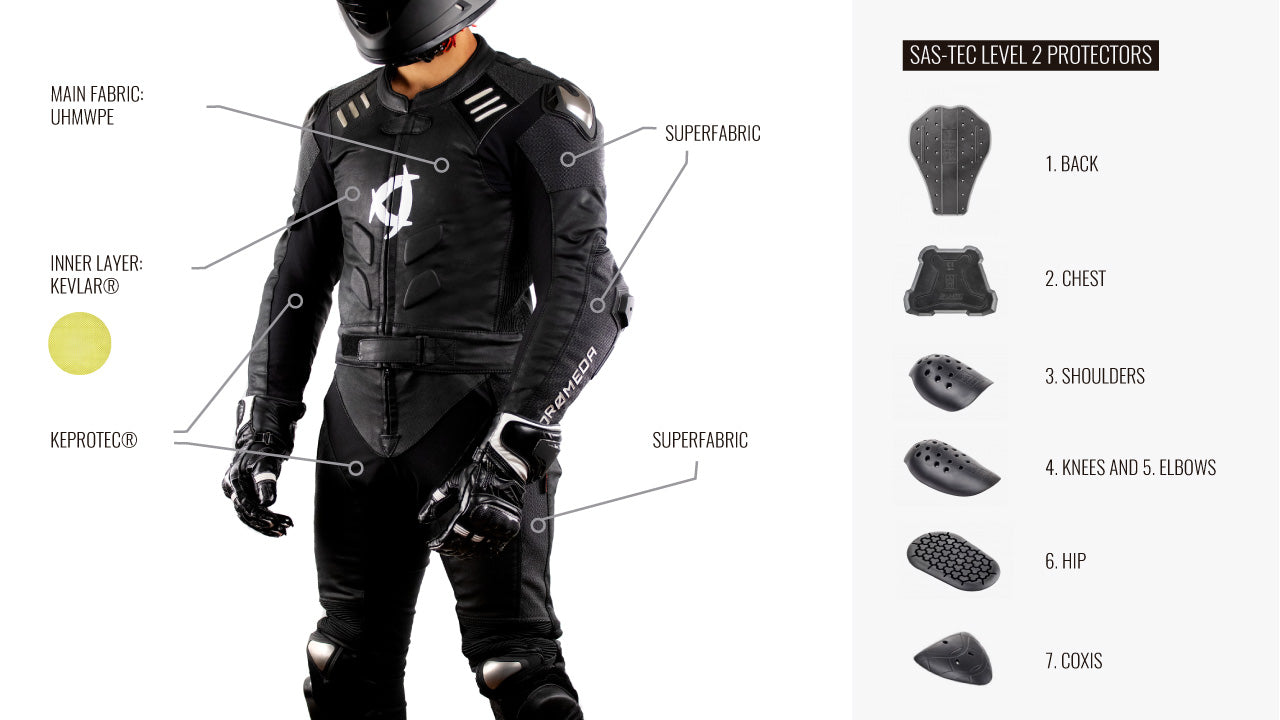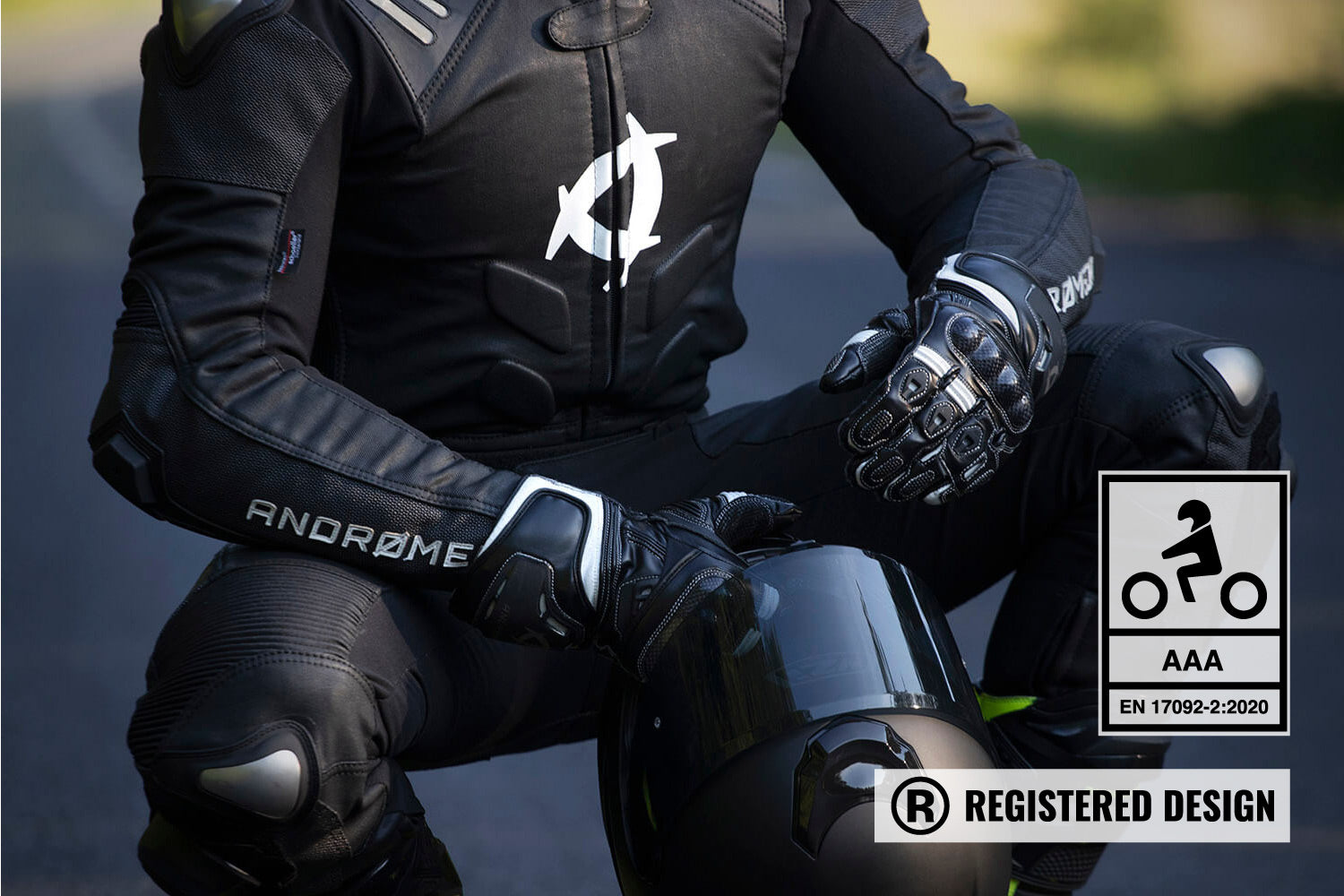 NON-LEATHER. WATER REPELLENT
Double layer: Black non-leather + full Kevlar inner. Unique in the world.
Protection level: AAA EN 17092-2:2020.
Properties: Water repellent. Long life circle and low temperature manufacturing means energy savings.
In leather production, each kilo requires approximately 17,000 litres of water. This amount is confirmed by the Water Footprint Network.
*fluencecorp.com/water-use-in-the-leather-industry
On the other hand, in the manufacture of our non-leather fabric only 30 liters are used per kilo. That is, 566 times less. We can see the comparison in the following image, considering that a single leather suit requires approximately 3kg.
— MAXIMUM LEVEL OF RESISTANCE —
— SUPERFABRIC® IN ALL HIGH IMPACT AREAS —
— MORE FLEXIBLE THAN LEATHER —
Need help?
FREQUENTLY ASKED QUESTIONS
Andromeda was born as a first level sports brand; therefore, we give more importance to quality than quantity. You can find very inexpensive motorcycle suits on the market, but you should always look at the features. The NearX suit is in the league of premium suits that offer the highest performance.

Both the protections and the materials used are the most advanced ones on the market. For example, the main fabric, made of ultra-resistant polyethylene, is 3 times more expensive than leather.
Our recommendation is that you choose the 2 piece suit if you do not usually go to circuits, because if you make a stop during the route and you want to take off the top part, it will be more comfortable. The 2-piece suit will also be easier to put on and take off.

The 1 piece suit is recommended if you frequently go to circuits, since in case there is an accident, it always provides extra security if it is all in one piece and does not have zippers.
Any racing rider will tell you that it is always safer if the suit is tight, with no loose fit, even if it is a bit more uncomfortable. The same can be applied to the rest of the clothing equipment, such as gloves.
Write a clear and concise answer to guide your customers.
We do not make the suit in other colors for sustainability reasons, so that we do not use additional chemicals that pollute the environment.