NearX: We explain why it is the best motorcycle suit
Human beings tend by nature to identify with brands, either because they communicate values that represent us or because we aspire to be part of a group. Believe it or not, brands have been with us since the birth of writing, but today more than ever we carry them as an extension of our personality.
In the case of motorcycle clothing brands, we can find a great variety of them, but only a few clearly stand out over the others in the number of bikers who wear them. Does that mean they have the best products? Not always.
Next, let's talk about why Andromeda's NearX is the best motorcycle suit ever made, and what drives us as a brand going forward (i.e., what our engine is).
Level AAA protection
In motorcycle clothing, certified protection levels range from A to AAA, the latter being the highest level. Most brands do not usually indicate the level in their communication, and often not on the labeling either. Many motorcycle enthusiasts are unaware of the existence of these regulations, since to enter a circuit they currently only require the use of a leather suit (regardless of its safety).
What levels of protection do motorcycle suits on the market usually have? Generally A, and for the high-end ones AA. Of course, there are the premium AAA-certified motorcycle suits that cost more than 2 thousand euros. But even these, they are not as safe as they could be, since to pass the AAA level tests they require a minimum of resistance to abrasion, tearing and so on. In other words, you can pass certification by the skin of your teeth.
Our NearX suit passed the AAA certification, tripling in many cases the minimum required values. We have not published the specific data for confidentiality reasons (no brand does), but we have shown it to motoring professionals such as Berta Doria and to organizations with which we are in contact.
Goodbye, leather
The tanning of leather has been done since ancient times, but it is a "material" that has no more technological progress. It makes no sense to continue using it if we have at our disposal fabrics that surpass it in resistance to abrasion and tearing, among other properties.
In our case we have opted for high molecular weight polyethylene UHMWPE (used in the astronauts' suits on the International Space Station), which is not only more resistant, but also uses 566 times less water in its manufacture. It is estimated that 51,000 liters of water are used in the manufacture of a leather suit. With the NearX fabric, only 90 liters are used.
So, for safety, sustainability and to take animals out of the equation, we are determined to lead the motorcycle apparel industry's transition from leather to innovative synthetic fabrics.
¿Kevlar? ¿Superfabric? The key is in which parts they are
There are leather suits with Kevlar, but the brands do not usually indicate where this well-known anti-abrasion material is located. It is usually placed in small areas, as a reinforcement, but many times it is marketing. Our NearX suit has an inner layer of Kevlar that covers 100% of the suit, so together with the main fabric it is a double layer. This way we offer the rider the maximum possible safety.
The same is true for Superfabric, one of the most resistant fabrics. A few brands use this fabric (which is composed of nylon and ceramic particles) as reinforcement between fabrics, but not in high impact areas. The NearX suit has areas of Superfabric covering the shoulders, forearms and the side of the legs (so the suit is triple layered in these areas).
Number of protections and their level
Most suits have 3 to 4 types of protections, generally on shoulders, elbows and knees (the rest are not included in the price). Surprisingly, in order to pass the maximum AAA certification, it is not required that the suit has protectors in areas such as back, chest and coccyx. Our NearX suit does include them, with a total of 7 internal protectors (as can be seen in the graphic above).
But it is not only the number of protections that counts, but also their quality. When buying motorcycle clothing, it is important to pay attention to the certification level of the protections. Many suits and jackets have CE Level 1 protections, and many brands do not even indicate the level. To create the best motorcycle suit, at Andromeda we wanted to use the best: SAS-TEC Level 2, which are flexible and soft to the touch, but harden on impact.
Comfort in motorcycle suits
Riding comfort is an active safety factor that must be taken into account. High molecular weight polyethylene is less heavy and more flexible than leather. Many customers have told us that it is the best motorcycle suit they have ever worn, and that compared to traditional leather suits, they can feel it like a second skin, so they are more comfortable on the road.
Professional manufacturing and zippers
The safety of a motorcycle suit is not only related to the quality of the materials used in it. It is also important how it is sewn and how the different parts are assembled, that is to say, the quality of the manufacturing. At Andromeda we are confident in this regard, as we have experienced professionals in the sector, able to manufacture a suit that has no less than 18 fabrics, and make it as robust as possible.
When it comes to a two-piece suit, the zippers that connect the top and the bottom are also very important. For the NearX we have the best: semi-blocked steel zippers from the Japanese brand YKK.
27 measurements for the best motorcycle suit
For a perfect fit to the body, the ideal is to make a suit tailored to our body (instead of taking a certain size and make subsequent adjustments). Many brands usually take an average of 7 measurements as a reference. For the NearX we use no less than 27. It is very important for the safety of the rider that the suit comes well adjusted and without looseness, because otherwise the protections may not be in the right place at the time of impact.
Below is a chart summarizing these points:
Discover the NearX suit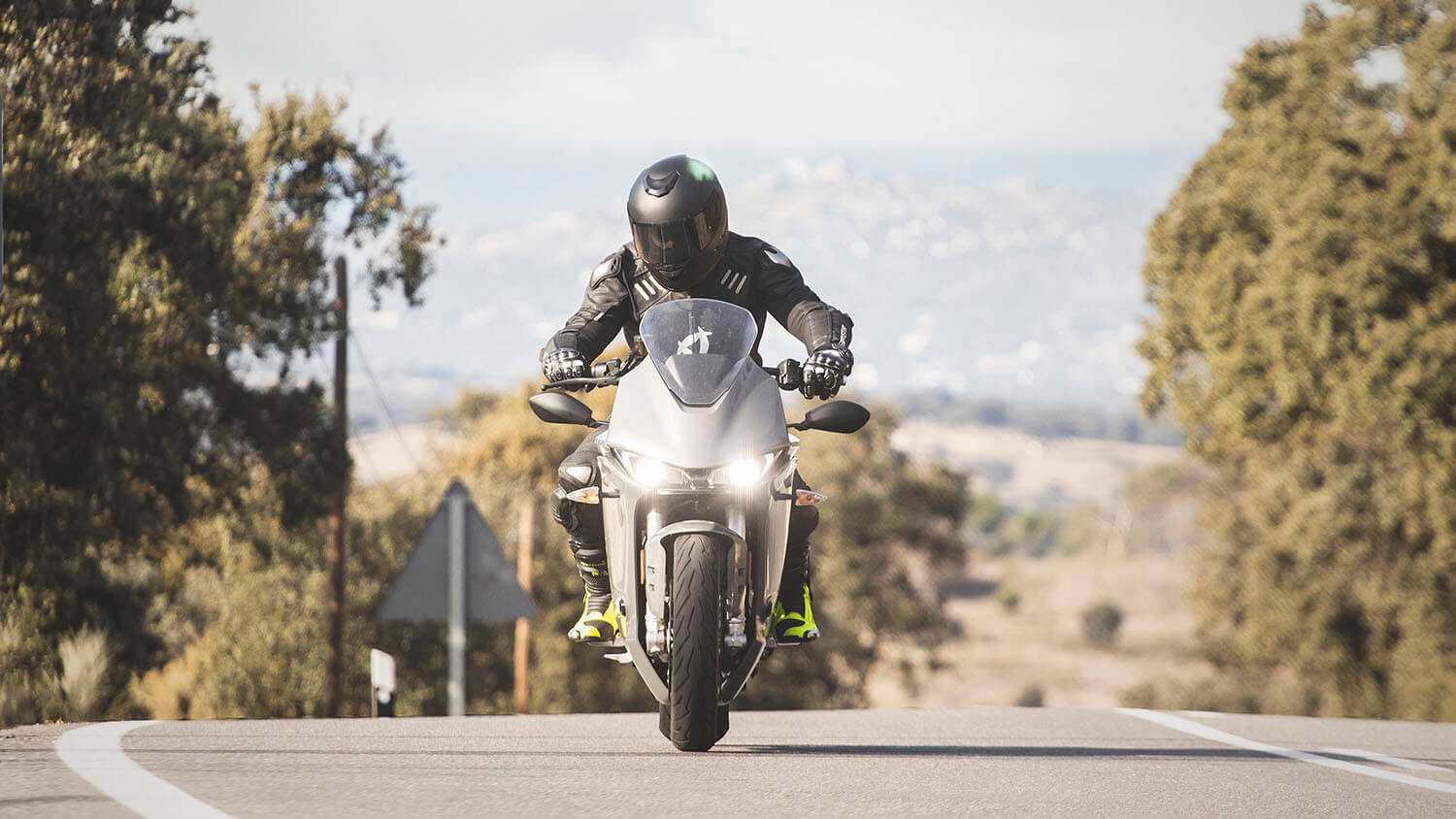 For riders who face big challenges
Motorcycle gear with aerospace technology