Meteor Gloves Black & White
Sale price
€104.00
Regular price
€149.00
(/)
Save 30%
Free shipping
Racing gloves that will surprise you with their lightness, flexibility and level of protection. They are leather-free and have a full aramid inner lining and Superfabric® protection (the toughest fabric of the market).
With these mid-season motorcycle gloves you will feel a real experience at the helm of your motorcycle.
Note: We recommend using the gloves on at least two rides to allow them to loosen and adapt better to your hand.
Shipping time 48-96h (Worldwide) / 24h (Spain)
Easy returns. You have 14 days to return a product if you are not satisfied, and 60 days to exchange a size. See conditions here.
Meteor Gloves Black & White
Sale price
€104.00
Regular price
€149.00
Choose options
— Full aramid fiber inner lining (top and bottom).
— Double stitching in the palm of the hand.
— Double velcro adjustment.
— Anti-slip palm reinforcement.
— External stitching for comfort and safety
— Carbon protectors on knuckles.
— TPR protectors on the outside of the wrist and palm.
— Flexors in phalanges and knuckles for comfort.
— Superfabric® protectors in phalanges and palm.
— Ventilation inlets on fingers and upper hand area.
— Light, comfortable and good touch.
— 100% vegan.
Mid-season motorcycle gloves
Prepared for CE certification EN 13594 level 2
FULL ARAMID FIBER INNER LINNING (UPPER AND LOWER)
High-tech and protective fabrics for safety and performance on the road.


METEOR
THE MOST COMPLETE RACING GLOVES
The Meteor are the ideal mid-season gloves if you're looking for a racing or sports style gloves with maximum protection. They are quite light for their category, as well as comfortable and flexible. Being non-leather, they will fit your hand sooner than you think.

To protect you properly, they have a aramid fiber layer that covers the entire inside of the glove. Also, carbon knuckle protectors and TPR protections on the outer wrist and palm. In addition to Superfabric (the most resistant material) protections on phalanges and palm of the hand.

The fingers are pre-curved and the flexors on the phalanges and knuckles provide greater comfort. In addition, to make them ideal mid-season racing gloves, they have ventilation inlets in the fingers and upper hand area.

Meteor have all the features to become your go-to gloves.
James Wilks (The Game Changers)
Trust Pilot
"Best motorcycle gloves on the market by far! Comfortable and the best abrasion resistance available. I am in the USA and they arrived quickly and on-time. I highly recommend Andromeda Moto. I was not asked nor paid to provide this review."
Alex
Google Reviews
"Excellent customer support, fast shipping, and at least the Meteor gloves I ordered, perfect, fit perfectly. In addition, for me, it is always a point in favor that it is a company with such a clear policy regarding the environment and veganism."
Justin Sane
Google Reviews
"I got the Meteor Gloves for six months now and they're really good. There're better choices when your're riding in the rain below 10° ;-) but everything else is really nice. So i fully recommended those gloves vor any vegan rider who want more sportstyle gloves."
Volodymyr Dyak
Google Reviews
"I already have the Meteor and they are the most comfortable and lightest gloves I have ever worn. I think I'm going to use them a lot this season. The shipping was great, very fast. Great communication with the seller. Will have to repeat."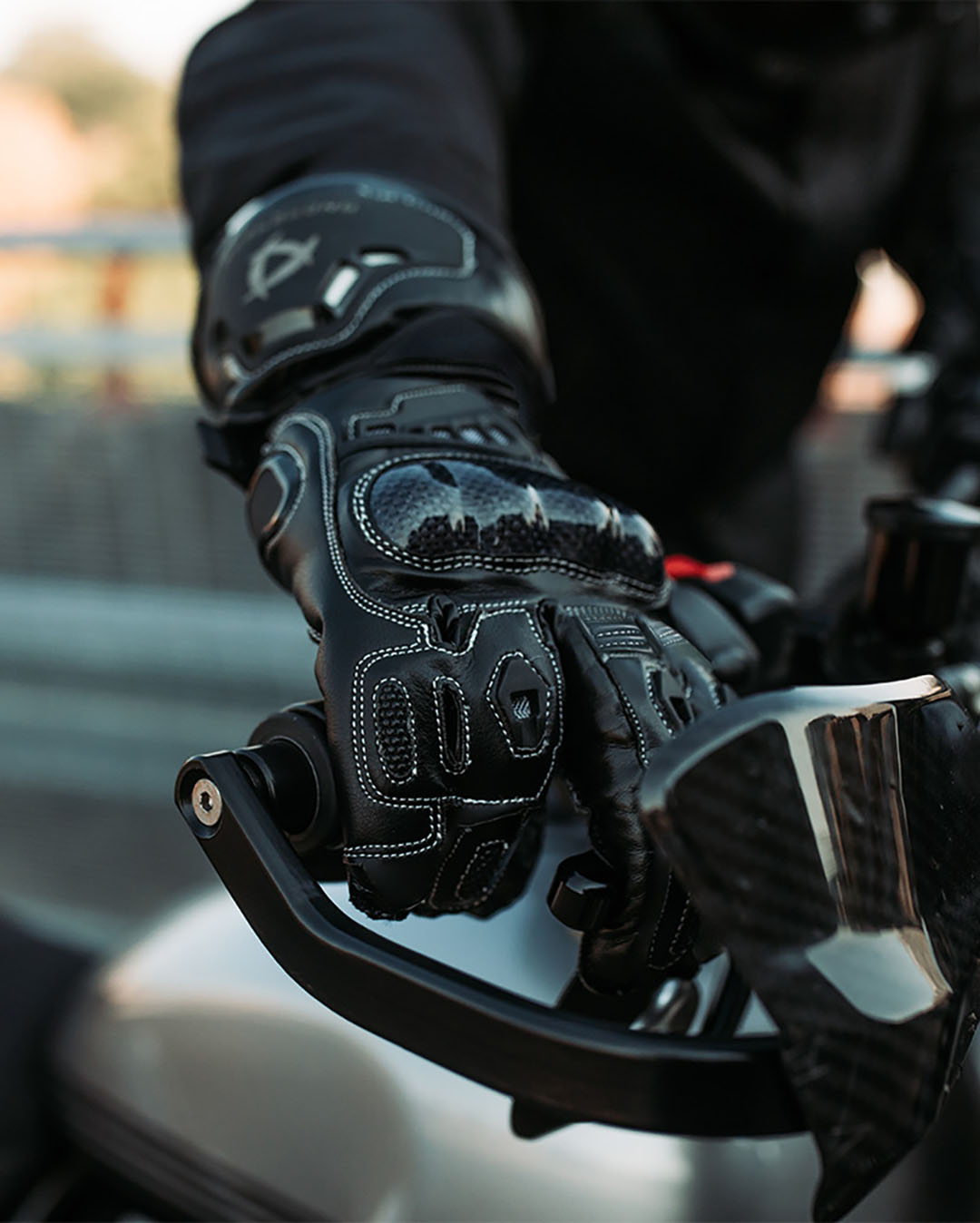 — NON-LEATHER RACING GLOVES —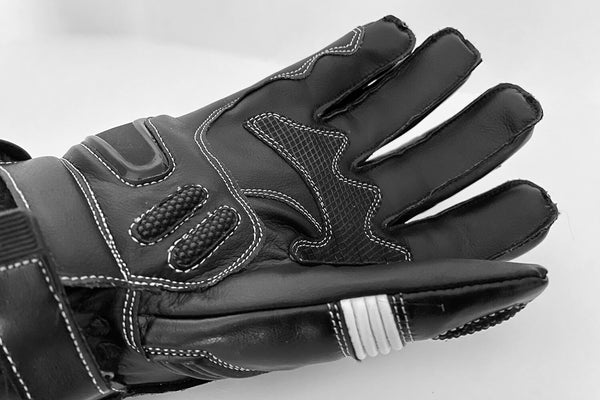 FABRICS FOR GREATER PROTECTION
Aramid fiber is known for being used in bulletproof vests among other uses. Other brands just use it on the top or bottom of the hand. The Meteor gloves are completely lined with this material.
Superfabric® is 5x more resistant to abrasion than leather, 4x than aramid fiber and 14x more resistant to tearing than racing leather.
Carbon brings lightness but at the same time resistance to impacts.
COMFORT
Comfort is part of passive security. The other features protect you against a possible accident while the comfort of the gloves makes you have more concentration.
In addition, thanks to the touch you will feel better the handlebar grips, so your movements will be more precise.